If you want to learn English fast and speak English fluently, you shouldn't focus on grammar rules. In fact, the best way to learn a foreign language is listening. You must focus on listening to easy and interesting materials repeatedly. So, download the Effortless English course, and the Effortless English system offers you the most powerful lessons to help you to improve your English skills.
Power English course is very useful to practice listening and speaking with the mini-story listen and answer lessons. You can download Effortless English courses easily into your computer and start to learn in 10 minutes. Now please watch the below video to figure out how to download Effortless English lessons step by step.
Hi, I am A.J. Hoge, the director of Effortless English. And now, I want to show you how exactly you get your lesson. Because all of my lessons are digital. That's great because you get them right now. You don't need to wait for the mail. There is no mail, there is no extra mail cost. Instead, I send you an e-mail with a link and then you click the link and you download each lesson set to your computer. You can use them right now, today, or immediately. Read the full transcript of the video.
Effortless English Download
Effortless English lessons will help you speak English faster, understand faster and learn vocabulary much faster, and learn grammar much better and much faster. After six months of using my lessons, you will speak English easily, quickly, and automatically.
Now, how can I say this? I can say this because my lessons come from the best research from experts such as Dr. James Asher, Dr. Stephen Krashen, and Dr. J. Marvin Brown. Their research shows that these Effortless English methods will help you learn English 4-5 times faster and remember it much longer. And you will learn how to speak quickly, easily, and automatically.
Power English contains 32 lesson sets. There is the main article lesson, a mini-story lesson, and a point-of-view lesson in each set. Also, there are 6 commentary mp3 lessons as a bonus. As I said before, from the main article you will learn many interesting things, for example, how to be confident, and strong and never give up on achieving your goals. The mini-story and point-of-view lessons will effortlessly teach you English grammar.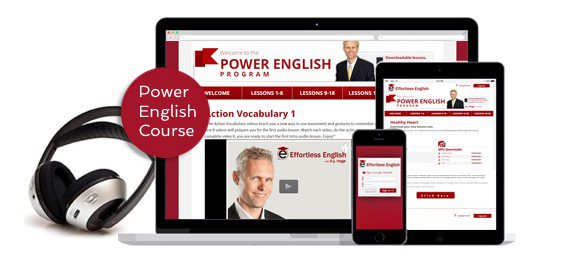 As a result, I believe Power English lessons are the best, the most powerful English lessons you can find. I highly recommend AJ Hoge Power English lessons. I think these lessons can help any of you who wants to improve your English skills for speaking excellent English. The price of Power English is the same as the Original English Lesson Set and it is 97 USD. Also, AJ Hoge is sure you will speak English better with his lessons and he gives a Money back guarantee.
Download Power English Course
Power English is another powerful course that helps you to improve your English listening and speaking skills. There are lots of idioms, slang, and common expressions to learn in English. So if you want to understand real English, you should learn from Power English Course. Since all the lessons are digital (mp3-audio) you can download Effortless English lessons easily and use them in minutes.
This great course used to be sold for $97 for a long time. It contains 32 lessons set which takes 6 months and improve your speaking skills very fast. But A.J. Hoge the director of the Effortless English program decided to increase the price. Now, if you click this link: Effortless English Club you can see the price of the Power English course is 197 USD currently.
But, there is a final chance to get this useful course with the old price now. If you click the below link, you can see the old price ($97) and buy Power English lessons % with 52 off. However, you should hurry up! Because this is limited time offer.
Effortless English 7 Rules: