Success with Stories is an audio program that aims at helping individuals speak English fluently. The methods it provides are proven to actually work and this is, therefore, a successful way of not only speaking fluently but also speaking English with confidence. With this program, you are guaranteed excellent English speaking. Even in the professional field, well-spoken English is a necessary skill for success.
It has been noted that speaking English fluently especially for young adults will not come about as a result of using textbooks and study of grammar rules. This makes the class boring and the fact is, it will not prepare you for the real world of English as there is a major difference between writing English and speaking English.
Forget about the endless drills about verb tenses, sentence structures, and long lists of irrelevant vocabulary.  It would be good to know that you are spending your time and money on something that actually works. Your solution to this would be the Success With Stories program. Watch the below video to find out more details.
Click here to view more details!
How the program works
This program helps individuals acquire the English language through listening to Stories. It is fun and entertaining which means that it will keep you alert throughout the entire session.
The brain loves to be triggered for it to stay alert. In this, the program has stories that range from silly, funny or those with a critical twist to them. This is bound to work as our brains thrive on emotion and change. As a result, the program captures your attention and you are able to understand what is being put across. In no time, you will be able to achieve your goal of speaking English automatically.
The concept behind its functioning is as similar as learning your own mother tongue. No one explained the grammar behind it but you learned it through listening to other people communicate and gradually, you started joining in the conversations automatically at a tender age.
Success with Stories volume 1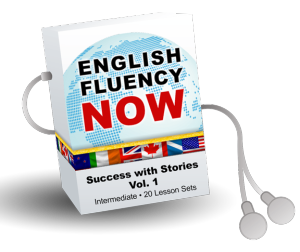 In this volume, you are required to listen to authentic American English. From the stories told, you will in turn acquire a number of relevant vocabulary words. These will include common idiomatic expressions, phrasal verbs collocations and colloquialisms. The storyteller will speak fluently and with a correct grammatical structure which you will gradually acquire.
You will learn to speak without putting a second thought to it. Speaking fluently will be easy, accurate, and fast as there are no hesitations. Considering the international job market, you will be able to speak with confidence.
Doing tedious grammar drills will not be a part of this volume. The baby response where the teacher tries to speak a word for word for you to repeat is in the past. The thought of having to learn words that you very well know will not be used on a daily basis is out of the question. Finally, this volume will not keep you wondering if your time and money are well spent.
Depending on your starting level and the number of times you will repeat the lessons, it should take you about 5-6 months so as to complete volume 1 of Success With Stories. The audio files can easily be downloaded onto your computer as an mp3 file from which you can transfer them to a mobile device for easy access anywhere even when you are on the move. The written files can be downloaded only as pdf so as to ensure that no alterations are made to the content.
Download A Free Sample Lesson Now!
Download English Listening And Speaking Audio+PDF
Lesson set of volume 1: This volume has a total of 20 lesson sets each of which contains:
An original short story of 3-8 minutes. A vocabulary lesson where you get to know the meaning of various words, phrases, expressions, and phrasal verbs after reading through the story. Each will take 20-40 minutes.
A question and answer session where from the same story, questions will be asked and possible answers provided. Also taking 20-40 minutes each.
Lastly, the story is retold from a different view using different verb tenses and grammatical structures to help practice English speaking from different perspectives.
As a bonus, you also get a full written transcript for the story though it is more advisable to listen to the listening English course first. You can also get special lessons on pronunciation, intonation, and accent. My Facebook page allows the students and the teacher to interact more in regards to speaking fluent English.
Success with Stories is your listening English course that has been made easier, interesting, and more involving so that you can easily and quickly understanding and learning English language.
Click here to download The Lessons!