Listen to the English short story for Present Continuous tense to improve your English speaking skills. In everyday spoken English, we frequently utilize the present continuous story. You will practice English listening and speaking conversation in this video.
We employ the question and response format in our short stories, as you may know. The goal of the question and answer approach is to assist English learners in improving their listening and speaking abilities in English. They can also internalize terminology by asking and answering questions repeatedly.
Practice English Listening
Each story focuses on a specific grammatical phrase, allowing learners of English to improve their grammar while listening to the story. You can see that we focus on the present continuous tense to practice English daily conversation in this English listening and speaking conversation lesson. Everyday English Conversations practice is easy with our stories.
Now, have a look at the video and listen to our little story. The Present Continuous Story is the topic of this story. As a result, you should picture all of the actions that are taking place right now. They're all happening right now, as you're listening. Let's get started:
Watch present continuous story video
Watch our other stories on Youtube!
Practice English Speaking
To practice speaking daily conversation in English, watch this video. That brings us to the end of our story. Please, as always, listen to this story several times. Try answering the simple questions aloud. Remember to pause and, if required, respond to the questions. If you're quick, you can answer the questions without halting, but pause and respond if necessary.
If possible, if you're alone, shout the answers! Right? Strong body, standing up, big smile and shout your answers very strong! Feel confident. Feel strong when you speak English. It is very important to say your answers out loud. Don't just think about the answers. Let the air come out of your mouth.
Use Correct Grammar Automatically When You Speak English
How to use grammar rules automatically when you speak English? Well, you need to use grammar rules again and again in the conversations, in order to speak English without translating sentences in your head.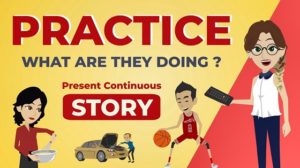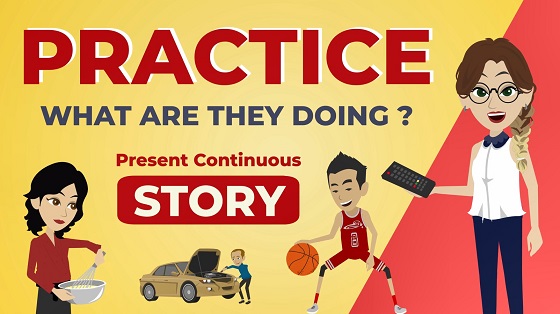 We use a special method called to listen and answer to improve your English speaking skills. We focus on a specific grammar term in each story lesson so that you can learn to use English grammar automatically and correctly in your English conversations.
Get The Full Course To Download English Stories Now
21 Lessons For Listening and Speaking
21 Slow Versions of the lessons
21 Pdf script text of the lessons (over 150 pages total)
+ Bonus Lessons For Listening & Speaking Practice
Get the course for Only 39 Usd Today