The best way to learn real English is to use real English materials. Not textbooks and CDs. Ther are boring and useless. We offer lots of free listening materials with reading text. you can use them to learn real English. Now please watch below video to find out more about the rule number 6. Also you can download your free mp3 listening lesson at the end of this post.
Learn Real English Rule 6:
Click here to get Learn Real English Conversations Now!
Using Real English Material for Excellent English Speaking
Do you want to speak English fluently? If you wish to speak English fluently, then you should know the right method to achieve it. You might just learn English through the book, but the book did not help much to your fluency in the English mastery. It seems you have to leave your books, and switch to real English. Real English uses real English material.
What is real English material? Real English material is an English material which is learned from the real things used in daily life. There are some real English materials to use.
Reading Materials
In this case you should read a lot of books you like and easy to understand. The books that we are talking about is not a formal lesson books that you frequently use in school, but the books which are used for pleasure such magazines, newspapers, comics, article, short story, novel and so on.
Listening Materials
In order to master English in all aspect, you have to listen English so much. Since English listening is one of the most important parts in English learning. You should not listen to CDs book anyway, don't listen to a dialogue of someone as if they are talking like a real conversation. What you need to do is just to find some listening materials that are easy to understand. In this case, you have to understand at least 90%-95% the conversation without a dictionary.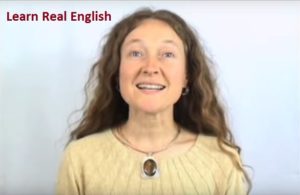 So, the point is that you should look for something fun in learning English. In this case, you can use several media such as television, radio, and internet. Here, you only need to read and listen to some easy materials and should be real materials. Something that is easy to be learned like Kid's TV program or children audio books. Why the audio book? Because audio book gives you real voice as well as the text.
Suppose kid's TV program is too easy for you, you can try a teenager TV program. If you already master those materials, then you can go to the most advanced materials such as listening to the news, podcast, TV Programs, movies, and etc.
We don't recommend you to read a textbook material or listening to a textbook CD. Why? Because those materials are not real, they are made by people. they are too formal. It is not natural because it is only used in the school. While outside the school, you have to face a real world with different English. However you need to learn real English and use it automatically.

In summary, now you already know how to learn English well. You don't need to read your school books a lot. In order to master English, you also have to learn from a real-world English, where it gives you a real English material. This is the easiest way to understand English, and it also gives you some fun. Therefore, from now on, just leave your textbook for school, find the real material around you such as watching a movie, watching the news, listen to the radio, and many more.
Of course we highly recommend you to use learn real English conversation course to understand and speak English automatically. There are lots of idioms, slangs and expressions in real life. So you can learn them with thiss great course.
Click here to get Learn Real English Course Now!

Click here to Download Audio+PDF
Learn Real English Videos:
Thank you, Learn Real English! I live in Japan, but I am a businessman and always travel to other countries for work. I needed to learn how to speak English properly and to understand native English speakers for my job. Before I found Learn Real English, I tried everything. I spent so much money on classes and other programs, but they did not work. They seemed fine because I could read and understand but when I talked to English business clients, I could not understand or follow their words. I was always confused and felt embarrassed by my English because the lessons were too formal. The words I used were not how English speakers really talk to you. I was afraid I would lose clients because of my bad English.
But with this program, it was so easy! I bought this program 4 months ago and my English is so much better now. I have recommended this to many of my coworkers so they can learn to speak and understand English better too. When I purchased Learn Real English, I got the lessons right away and I started learning the same day! The files were emailed to me right away and then I downloaded them and could take them anywhere. I put the files on my cell phone so I could listen wherever I was. This was great for me as a busy businessman because I could study and learn every day no matter what. I listened to lessons in my car while I was driving to work, at the gym, at home, everywhere and especially on business trips. When I was on flights for work, I could listen the whole time with headphones and this really helped me to learn even faster. I really enjoyed the lessons and had fun learning real English.
My coworkers and clients started noticing my improved English too. I was on a business call with a client a few months ago and he remarked at how much more confident I sounded. He remembered how I used to hesitate when talking and think out my words and sentences before English speaking with them, but now it is like I have never had a problem with the language.
I think the biggest thing that I learned from Learn Real English was confidence. When I first started out, I was very nervous to learn. The English language is very hard and I was scared that even if I learned all the rules, I would never understand how to use them. Learn Real English, however, makes it very easy to learn the language and I can do it by myself, meaning I do not have to feel embarrassed if I do not understand something the first time.
One of the problems with my other English programs is that it was all book based. I do not learn well from textbooks but I learn well with hands on instruction. Learn Real English uses three teachers who are fun and interesting to watch. It is not just instruction, it also shows you some native phrases you can use that make conversations much easier when dealing with native English speakers. There is no reason to feel embarrassed when using them. Many native speakers would appreciate you trying to use these phrases, as it makes them feel "at home".
Another problem I had was listening to English speakers. When they speak fast, it was hard to understand what they are saying because I could not translate it in my head fast enough and I felt embarrassed to keep asking them to slow down or repeat what they had just said. With Learn Real English, you do not just learn English speaking skills. You learn the best way to listen too. In my business, you must listen to the client and understand their concerns in order to address them. With Learn Real English, you will learn to listen to the speakers and how to understand them as if you spoke the language like a native person.
Learn Real English Conversations
Can you speak real English? Probably not. In school you did not learn real English. you learned textbook English. For example in school you learned "hi how are you? I'm fine and you?" Well real people almost never say that. We don't say that. Real people say that "hey what's up. What you've been doing? how you doing?" That is a real English greeting that we use everyday.
You never learned that in school, you never learned that in a textbook. To understand real people, to speak to real people, to have real English conversations, you must learn the real English that we use everyday. With learn real English, we always teach you real everyday English. Our lessons teach you the real English used by real people, not textbook English. Get our lessons today and start learning real English.
Click here to download Learn Real English Course!
I cannot recommend Learn Real English enough. I enjoyed the programs, the way they were made and the instructors themselves. I have even begun teaching my four year old basic English, so that she can grow up and learn both her native Japanese and English to succeed in today's world.
Get Learn Real English Conversation Course Now!
Can you speak real English? Probably not. In school, you did not learn the real english that we actually speak. Your learned textbook english. For example in school, you learned "Hi, how are you? I am fine, and you?"
But real people almost never say that. Real people say, "Hey, what's up?" or "How is it going?" or "What you doing?" These are the real greetings that real people use. To understand real people, you must learn the real english that they use. To speak to real people, you must learn real english.
Whit Effortless English, you always learn real english. I teach you the english that we use in real conversations. You don't learn textbook english , you always learn real english.
Click here to view more details!