"Learn Real English Video Course and Online Newsletter"
Hi. In addition to the below video, I want to give you my free e-books, "Powerful English Speaking" & "The Key". These e-books will teach you more about the Effortless English System. Download the e-books now:
If you like what you read, Join my FREE online newsletter now and get 7 Free videos about learning English faster and speaking it better.
My name is A.J Hoge and I will teach you 7 rules for speaking Excellent English.
Enter your email and name below and click "submit" to join myFREE video course and online newsletter.
(Please click above link and put your mail address into the small box as below.)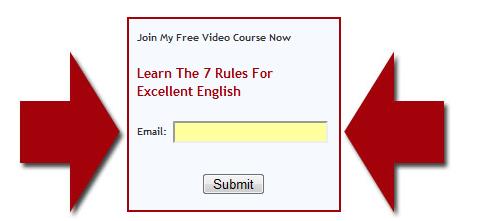 What You Get When You Join
A powerful new secret to English learning every day for one week. Each of the 7 rules teaches you a totally different way to learn English. After 7 days, you know the complete Effortless English system. You get a new video every day for 7 days!
Learn more fantastic ideas for amazing English success that help you become an incredible English speaker. After the first week, I send you a new email approximately every month. Each email has bonus information– study tips, recommended books and lessons, website recommendations, ways to improve reading and pronunciation, etc…
You also join my elite newsletter which gives you advanced English learning secrets. After you finish the first 7 rules you get my free online newsletter for powerful advanced secrets, bonus videos, webinars, e-books, audio reports, free lesson samples, special discount offers, etc. Only graduates of the 7 Rules email course get my newsletter.
What if you could get powerful mp3 English lessons at an amazing discount price- would that help you learn even faster? Subscribers to my 7 Rules email course get a special low rate for my lessons.
Total privacy. I never, absolutely never, share your email address with anyone else. I personally promise you 100% privacy. Understanding my promise will cause you to feel relaxed about giving your email. You'll know you are safe with me. And you can opt-out of the course at any time.
My FREE course and newsletter teaches you how to :
Learn Vocabulary Quickly And Remember It Forever
Speak English Fast By Thinking In English
Learn Grammar Like A Child, Not By Studying Grammar Rules
Learn 3-5 Times Faster Using New Learning Techniques
And More….
Click here to view more details.
Learn Real English Conversations
Can you speak real English? Probably not. In school you did not learn real English. you learned textbook English. For example in school you learned "hi how are you? I'm fine and you?" Well real people almost never say that. We don't say that. Real people say that "hey what's up. What you've been doing? how you doing?" That is a real English greeting that we use everyday.
You never learned that in school, you never learned that in a textbook. To understand real people, to speak to real people, to have real English conversations, you must learn real English that we use everyday. With learn real English, we always teach you real everyday English. Our lessons teach you the real English used by real people, not textbook English. Get our lessons today and start learning real English.
Click here to download Learn Real English Course!
I highly recommend Learn Real English enough. I enjoyed the programs, the way they were made and the instructors themselves. I have even begun teaching my four year old basic English, so that she can grow up and learn both her native Japanese and English to succeed in today's world.
Get Learn Real English Conversation Course Now!