The most fun way of learing English is to watch subtitles movies. You will improve English listening and speaking skills by watching these comedy series. You will also read the subtitles while you are watching so that you can understand everything.
Watch English Subtitles Series
We will publish the other parts of this entertaining English comedy series at our website soon. So please visit our gr8English page to follow and watch English subtitles comedy series. Reading and listening at the same time is very powerful method to improve your English skills. You can learn pronunciation as well.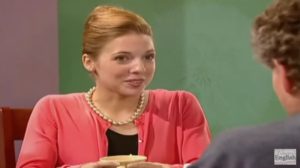 This funny film is a comedy English film for you to learn English.  You will listen funny conversation with Subtitles 01 this video talks about some funny friends they work together in an entertainment company. And they always create a situation funny comedy while working. With this video will help you improve your ability to listen, speak, read, write and pronounce English some vocabulary. Just study and practise your English everyday to speak it fluently.
Learn Real English rules: