This is strategy number 2 for English fluency of Success With Stories listening course. In this post, you will find out how to understand English instantly and speak it automatically. You can also download mp3 audio and pdf text for this powerful lesson at the end of this post.
The first step in becoming fluent in English is to immerse yourself in the language. Simply put, you will want to listen to movies, songs, and podcasts, to name a few ideas, in English. Listening to the words you hear, you may realize that you can understand some of them, but not all of them. The second strategy to become fluent in English will help you here.
One of the best ways to learn a new language, in this case English, is to listen to words and phrases over and over again, repeating them until you understand them instantly.
You can learn English deeply by listening to as much recorded English as you can, over and over and over again. The first few times, a word or a phrase might not mean anything to you, but, as you listen to it and listen to it, you will begin to understand it, and it will make sense to you. Then you will be one step closer to English fluency.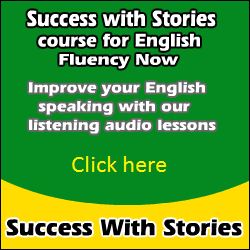 Some of the hardest parts of the English language to learn are the slang expressions, the idioms and phrases that people use in their day to day conversation. Expressions such as "What's up?" don't necessarily literally mean what they sound like they mean. "What's up?" for example, means how are you?, or what's new with you? By hearing this phrase again and again, you will begin to understand it and its meaning.
Since listening to the same phrases all the time can get boring, you should space them out throughout the day, listening to them in the morning, the afternoon, and the evening. Listen to different words throughout the week. This will not only help you to avoid boredom, but will also help you to learn the words better and recall more of them.
By listening to English words over and over, you will learn that it is possible to learn English with repetition. Once the words have become familiar to you, you will be able to understand and speak them correctly. Now click below link to download your free mp3+pdf lesson to listen with repetition.
Download Free English Lesson Here!
This is Day Six of your Seven days Deep English lessons. We now have one more download pack for you now. It has today's Fluency increaser speaking audio, and also a PDF support file. Ensure you listen and look the today's tutorial listed below Just before you perform the Fluency increaser from the download package.
Welcome back to Day 6 of our own tutorials. Just what did you think about the particular Aron Ralston's Active Listening story? Very crazy right? If you haven't listened to that yet, download it while using the link in the bottom of the webpage. Right now you'll be getting an additional Fluency increaser English Speaking lesson.
If you wish to hear the remainder of the story and more listening and speaking stories, have a look at our own True Stories Listening and Speaking Group.
Right now, we want to mention repetition. It isn't pretty, it isn't fascinating, however it is vital. Any time you're learning something, repeating is vital.
We realize what you're considering, repetition will be boring. Learning needs to be exciting. If you aren't interested you won't proceed. If you aren't having a great time, you're going to give up.
That's totally right. You must keep things fascinating. First of all, you must find content which you feel is fascinating, meaningful as well as allows you to think.
Second, you need to repeat this and re-experience this differently. Plenty of you possibly have used flash cards to examine vocabulary. Vocabulary cards will give you results, however performing the same thing becomes boring right? You 'must' have meaningful repetition. And also the repetition requires enough variety to keep it fascinating. You should be experiencing and also re-experiencing diversely otherwise you won't continue on.
This can be part of the philosophy guiding the Deep English approach. In the True Stories Listening and Speaking Series we offer you 8 forms of lessons.
Active Listening
Active Listening Slow Speed
Active Speaking
Fluency increaser
Looking Forward Looking Back: Future
Looking Forward Looking Back: Present Continuous
Looking Forward Looking Back: Past Continuous
Looking Forward Looking Back: Present Perfect
They're eight different ways so that you can experience and re-experience the information. This sort of repetition was created to keep altering to enable you to deeply experience the language without losing interest.
The other day we mentioned employing your imagination. Closing your eyes along with imagining just how things seem and how things sense can be section of our own learning philosophy. This offers you an additional way to go through the information. The storyline is the similar but we wish that you re-experience it through a psychological and visual stage.
In the Fluency Booster stories, we all have you re-experience the storyline simply by responding to questions.
Yet another thing that you can do to obtain additional repeating is usually to stop the recording and repeat the questions before you'll supply the answer. This type of targeted repeating can also be excellent with all the Active Listening lessons.
Typically we ask you to relax while focusing for the meaning of the stories. Right now try something different. Forget about the meaning and concentrate about the sound of the language. Language is a lot like music; it comes with a tempo and melody. Stop the recording any time you like and attempt to repeat the final sentence you listen to. Replicate the particular rhythm and also music.
Provide this kind of listen and repeat approach a try but don't overdo it. The most critical thing is to enjoy it and maintain it fascinating. If you're sick and tired of doing the Active Speaking, listen to the Active Listening once more. If you're sick and tired of the Active Listening, try stopping the recording and doing a bit of listen and repeat. If you're tired of the particular listen and repeat approach, get back to the Active Listening and simply close your eyes and imagine. There are numerous solutions to work with the Deep English system. The main element is to make it fascinating and have a great time.
Get pleasure from today's Active English Speaking story and look with us another day to get more assistance with the way to increase your English.
If you've been taking pleasure in this series as well as the free audio trial samples, look at our True Stories Listening and Speaking Series to have 4 months of listening and speaking materials.
Deep English Download

Download the Fluency increaser Speaking Bunch
(It is a zip document. Open it like you did for yesterday's download.)
Click here to view more details.
Deep English Tips:
Did you learn English with your eyes? Probably. In school you probably learned mostly with your eyes. You red textbook, you studied word lists, you studied grammar rules. That's why you read well, but can not speak well.
For example, you can easily understand written English. Such as hi, how are you? What have you been doing lately? But you do not easily understand real English speaking. Such as, hey man, how is it going? What's you've been up to? To speak well, you must learn with your ears. You must learn by listening. If you learned by your ears, you would easily understand the second example.
This is what children do. Children learn English by listening. They listen to their parents, and then a few months later, they began to speak. With Effortless English you learn like a child. You learn English with your ears. All of our lessons are listening lessons. No textbooks. Children are the best English learners. To speak excellent English you must learn like a child. You must learn with your ears.
Click here to view more details!