This is strategy number 2 for English fluency of Success With Stories listening course. In this post, you will find out how to understand English instantly and speak it automatically. You can also download mp3 audio and pdf text for this powerful lesson at the end of this post.
The first step in becoming fluent in English is to immerse yourself in the language. Simply put, you will want to listen to movies, songs, and podcasts, to name a few ideas, in English. Listening to the words you hear, you may realize that you can understand some of them, but not all of them. The second strategy to become fluent in English will help you here.
One of the best ways to learn a new language, in this case English, is to listen to words and phrases over and over again, repeating them until you understand them instantly.
You can learn English deeply by listening to as much recorded English as you can, over and over and over again. The first few times, a word or a phrase might not mean anything to you, but, as you listen to it and listen to it, you will begin to understand it, and it will make sense to you. Then you will be one step closer to English fluency.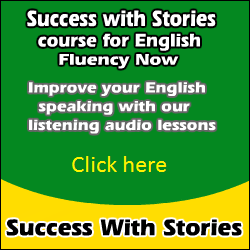 Some of the hardest parts of the English language to learn are the slang expressions, the idioms and phrases that people use in their day to day conversation. Expressions such as "What's up?" don't necessarily literally mean what they sound like they mean. "What's up?" for example, means how are you?, or what's new with you? By hearing this phrase again and again, you will begin to understand it and its meaning.
Since listening to the same phrases all the time can get boring, you should space them out throughout the day, listening to them in the morning, the afternoon, and the evening. Listen to different words throughout the week. This will not only help you to avoid boredom, but will also help you to learn the words better and recall more of them.
By listening to English words over and over, you will learn that it is possible to learn English with repetition. Once the words have become familiar to you, you will be able to understand and speak them correctly. Now click below link to download your free mp3+pdf lesson to listen with repetition.