Thank you, Learn Real English! I live in Japan, but I am a businessman and always travel to other countries for work. I needed to learn how to speak English properly and to understand native English speakers for my job. Before I found Learn Real English, I tried everything. I spent so much money on classes and other programs, but they did not work. They seemed fine because I could read and understand but when I talked to English business clients, I could not understand or follow their words. I was always confused and felt embarrassed by my English because the lessons were too formal. The words I used were not how English speakers really talk to you. I was afraid I would lose clients because of my bad English.
But with this program, it was so easy! I bought this program 4 months ago and my English is so much better now. I have recommended this to many of my coworkers so they can learn to speak and understand English better too. When I purchased Learn Real English, I got the lessons right away and I started learning the same day! The files were emailed to me right away and then I downloaded them and could take them anywhere. I put the files on my cell phone so I could listen wherever I was. This was great for me as a busy businessman because I could study and learn every day no matter what. I listened to lessons in my car while I was driving to work, at the gym, at home, everywhere and especially on business trips. When I was on flights for work, I could listen the whole time with headphones and this really helped me to learn even faster. I really enjoyed the lessons and had fun learning real English.
My coworkers and clients started noticing my improved English too. I was on a business call with a client a few months ago and he remarked at how much more confident I sounded. He remembered how I used to hesitate when talking and think out my words and sentences before English speaking with them, but now it is like I have never had a problem with the language.
I think the biggest thing that I learned from Learn Real English was confidence. When I first started out, I was very nervous to learn. The English language is very hard and I was scared that even if I learned all the rules, I would never understand how to use them. Learn Real English, however, makes it very easy to learn the language and I can do it by myself, meaning I do not have to feel embarrassed if I do not understand something the first time.
One of the problems with my other English programs is that it was all book based. I do not learn well from textbooks but I learn well with hands on instruction. Learn Real English uses three teachers who are fun and interesting to watch. It is not just instruction, it also shows you some native phrases you can use that make conversations much easier when dealing with native English speakers. There is no reason to feel embarrassed when using them. Many native speakers would appreciate you trying to use these phrases, as it makes them feel "at home".
Another problem I had was listening to English speakers. When they speak fast, it was hard to understand what they are saying because I could not translate it in my head fast enough and I felt embarrassed to keep asking them to slow down or repeat what they had just said. With Learn Real English, you do not just learn English speaking skills. You learn the best way to listen too. In my business, you must listen to the client and understand their concerns in order to address them. With Learn Real English, you will learn to listen to the speakers and how to understand them as if you spoke the language like a native person.
Learn Real English Conversations
Can you speak real English? Probably not. In school you did not learn real English. you learned textbook English. For example in school you learned "hi how are you? I'm fine and you?" Well real people almost never say that. We don't say that. Real people say that "hey what's up. What you've been doing? how you doing?" That is a real English greeting that we use everyday.
You never learned that in school, you never learned that in a textbook. To understand real people, to speak to real people, to have real English conversations, you must learn the real English that we use everyday. With learn real English, we always teach you real everyday English. Our lessons teach you the real English used by real people, not textbook English. Get our lessons today and start learning real English.
Click here to download Learn Real English Course!
I cannot recommend Learn Real English enough. I enjoyed the programs, the way they were made and the instructors themselves. I have even begun teaching my four year old basic English, so that she can grow up and learn both her native Japanese and English to succeed in today's world.
Get Learn Real English Conversation Course Now!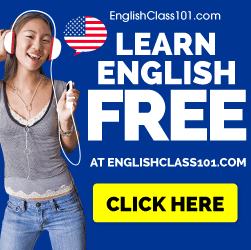 Learning English is getting crucial as the world is advancing these days. The one who knows how to speak good English survives and the one who does not finds it difficult to adjust in the society. Learning online has its own advantages and especially if you are learning online with EnglishClass101, then the benefits gets doubled as this website provides the users with the most amazing features ever seen on an online English learning website.
Learn according to your competency level
The website gives you the feature to start learning English according to your own competency level. If you are completely not aware about this language then you should sign up on the website as an absolute beginner. If you know something about this language then you can select the beginner. You can also select the intermediate and the advanced level depending on your knowledge about this language. The tools and preparatory materials you will get will be according to the competency level you select.
Learning at your own convenience
Learning from EnglishClass101 gives you the advantage of learning from your home at your own convenience. This gives you the advantage of learning whenever you want to. You can even learn at midnight and even at the morning. You can take out the time with your own feasibility and learn. Once you sign up on the website and you get the advantage of learning whenever you want. If you are a house wife or working man or a woman, you can schedule your learning times whenever you have time.
Best preparatory materials
The EnglishClass101 offers the finest preparatory materials such as the video and audio lessons that help you learn English with great pronunciation and speech. This allows you to speak English in the perfect way possible. These lessons are very much detailed, and they help you learn all the spellings and grammar properly.
Click here to view more details!
Detailed notes
The detailed notes provided by this website add further to your learning giving you the chance to learn new words daily. The notes have all sorts of grammar and sentence exercises that improve your written English.
Different vocabulary learning tools
This website along with other materials offers the best vocabulary learning tools like the flash cards, and other learning tools to enhance your vocabulary. These tools have all the best vocabularies that are updated frequently.
Forum discussion
This feature by English Class 101 allows you to have a discussion on their online forum and community allowing to learn better and more to learn English online. It will help you in interacting with other users of the same website and discuss the learning materials.
Learn English anywhere
The EnglishClass101 gives you the best advantage of learning anywhere you want by learning from the apps installed in your smart phones. This will allow you to learn whenever you want and wherever you want. You will only need your smart phone and that is it. You will be able to learn in your free time in your office, home or anywhere.
Learning English online gets easiest with Englishclass101.com as it offers very convenient features to the users and also a life time free account with all the services. Click below link to get your free account.
Click here to Join English Class 101 now!
English Class 101 Video Series:
This is a new tip for learning English from Everyday English course.  This is also a very useful method to improve English speaking automatically. Because, by using this method, you won't translate vocabulary, phrases and sentences in your head anynmore. You will learn to speak English instantly, automatically. Watch below video lesson to learn more about it.
How To Learn To Think In English
Everyday English guideline variety Four: Think in English. Don't translate the information within English, to your language. Make use of the English language you know to comprehend English. If you train your brain, to learn thoughts within English, become familiar with normal English much faster.
Try to make use of an English-English dictionary prior to using a multilingual dictionary. All of the vocabulary that you employ to attempt to comprehend English, ought to be English. This is simpler to perform should you stick to guideline # 1. Listen to English daily that's clear to see.
Decide to pay attention to vocabulary that you could understand a minimum of 60% of what you listened. Don't convert the actual vocabulary in your language. Maintain thinking within English. Attempt to recall the vocabulary you know. Think of English vocabulary you know which have the concept that you are looking at. Physical exercise your mind to keep in mind the particular vocabulary, key phrases as well as content.
Whenever you exercise guideline number two you're comprehending the tunes of English. So when you apply guideline # 3, you happen to be seeking the vocabulary that you simply saved in your mind via repeating and you're simply remembering all of them or even recalling them.
To speak English effortlessly as well as normally you have to teach your mind to think in English. Don't translate the information in your personal language. Apply thinking in English. This can be hard to perform in the beginning and you'll believe it is not possible.
You might declare Joyce, I am unable to think in English. I should translate this directly into my very own language. As well as I may say alright, I realize. I realize it is tough at the start. However, you could make that the goal. You are able to notify your self i'll attempt to think in English just as much as i can. And also at some point shortly, I won't convert the language I believe any longer. I will certainly comprehend the thoughts within my mind within English.
This is actually the support. You realize a lot more than you probably did the other day. You're planning as well as learning. You'll be successful.
The actual stories around the learnenglishenglish.com web site, are made to cause you to think in English. I will explain a story. In the story, i'll talk to questions. You need to response the actual questions as soon as you can. This makes you think in English. The actual questions can be really easy.
Here's a good example: Anna went shopping at the mall yesterday. Did Anna go shopping the mall yesterday? And you say YES!. Who went shopping the mall yesterday? And you say ANNA! Whenever you response the actual questions rapidly in English, it can make your mind think in English obviously.
You won't translate in to your personal language along with these types of simple questions. After I require a question, you'll response outloud. Speak loudly as well as answer the particular questions easily.
Click here to view more details!
Effortless English Course
There is another Learning English Course that uses that kind of method. It is Effortless English You may also interested listen and answer mini stories of Effortless English club. This is very powerful method to learn speaking English automatically. Watch Effortless English rule number 7 to learn how to use this listen and answer lessons.
Learning English Lessons: