We already mentioned about Learn Real English course before. You can improve listening, understanding English and speaking skills with this very useful course. Many people struggle to learn English. In fact, people that are native English speakers spend most of their lives trying to learn all of the nuances of the English language. Some people are better at it than others, but many people that are well educated make mistakes when it comes to properly speaking or writing the English language on a regular basis. Imagine being someone that is not a native English speaker and having to memorize all this information correctly. It can be overwhelming and it often makes it difficult to learn this language at all.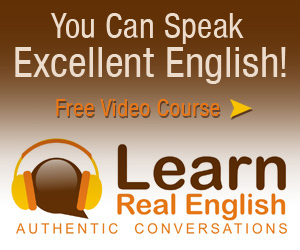 That is why LRE, , or Learn Real English, has gained so much popularity. Essentially, there are seven rules to using this system that help people learn English quickly and easily without bogging them down with all of the complicated rules of grammar that are used in more traditional methods of learning. The first rule is perhaps the most important and it dictates that people learn English by utilizing phrases as opposed to single words. While there are actually six other rules that follow the first one, this is perhaps the most important rule of the entire program. It sets the foundation for everything else that will be learned later on.
This helps individuals who are not native English speakers learn English vocabulary faster and it also helps them have a better understanding of the correct phrases that they need to use because they are able to determine simply by listening whether or not that phrase is being pronounced correctly. As a result, the Learn Real English system is one of the most innovative ways of learning English that has been developed in a very long time. It is also one of the most potentially effective systems that currently exists. This is a system that almost anyone who is attempting to learn English can benefit a great deal from.
LRE Rule 1: learn English phrases not individual words
It means you always study and review phrases. To speak English better you must study English phrases, not individual words. Americans speak English in chunks or phrases; they do not speak word by word. Now, please watch below video to find out more about this powerful rule of learn real English.
Download English listening mp3 + pdf of this lesson below:
Learn Real English Rule 1 mp3+pdf lesson download!
Click here to get Learn Real English Course!
Thank you, Learn Real English! I live in Japan, but I am a businessman and always travel to other countries for work. I needed to learn how to speak English properly and to understand native English speakers for my job. Before I found Learn Real English, I tried everything. I spent so much money on classes and other programs, but they did not work. They seemed fine because I could read and understand but when I talked to English business clients, I could not understand or follow their words. I was always confused and felt embarrassed by my English because the lessons were too formal. The words I used were not how English speakers really talk to you. I was afraid I would lose clients because of my bad English.
But with this program, it was so easy! I bought this program 4 months ago and my English is so much better now. I have recommended this to many of my coworkers so they can learn to speak and understand English better too. When I purchased Learn Real English, I got the lessons right away and I started learning the same day! The files were emailed to me right away and then I downloaded them and could take them anywhere. I put the files on my cell phone so I could listen wherever I was. This was great for me as a busy businessman because I could study and learn every day no matter what. I listened to lessons in my car while I was driving to work, at the gym, at home, everywhere and especially on business trips. When I was on flights for work, I could listen the whole time with headphones and this really helped me to learn even faster. I really enjoyed the lessons and had fun learning real English.
My coworkers and clients started noticing my improved English too. I was on a business call with a client a few months ago and he remarked at how much more confident I sounded. He remembered how I used to hesitate when talking and think out my words and sentences before English speaking with them, but now it is like I have never had a problem with the language.
I think the biggest thing that I learned from Learn Real English was confidence. When I first started out, I was very nervous to learn. The English language is very hard and I was scared that even if I learned all the rules, I would never understand how to use them. Learn Real English, however, makes it very easy to learn the language and I can do it by myself, meaning I do not have to feel embarrassed if I do not understand something the first time.
One of the problems with my other English programs is that it was all book based. I do not learn well from textbooks but I learn well with hands on instruction. Learn Real English uses three teachers who are fun and interesting to watch. It is not just instruction, it also shows you some native phrases you can use that make conversations much easier when dealing with native English speakers. There is no reason to feel embarrassed when using them. Many native speakers would appreciate you trying to use these phrases, as it makes them feel "at home".
Another problem I had was listening to English speakers. When they speak fast, it was hard to understand what they are saying because I could not translate it in my head fast enough and I felt embarrassed to keep asking them to slow down or repeat what they had just said. With Learn Real English, you do not just learn English speaking skills. You learn the best way to listen too. In my business, you must listen to the client and understand their concerns in order to address them. With Learn Real English, you will learn to listen to the speakers and how to understand them as if you spoke the language like a native person.
Learn Real English Conversations
Can you speak real English? Probably not. In school you did not learn real English. you learned textbook English. For example in school you learned "hi how are you? I'm fine and you?" Well real people almost never say that. We don't say that. Real people say that "hey what's up. What you've been doing? how you doing?" That is a real English greeting that we use everyday.
You never learned that in school, you never learned that in a textbook. To understand real people, to speak to real people, to have real English conversations, you must learn the real English that we use everyday. With learn real English, we always teach you real everyday English. Our lessons teach you the real English used by real people, not textbook English. Get our lessons today and start learning real English.
Click here to download Learn Real English Course!
I cannot recommend Learn Real English enough. I enjoyed the programs, the way they were made and the instructors themselves. I have even begun teaching my four year old basic English, so that she can grow up and learn both her native Japanese and English to succeed in today's world.
Get Learn Real English Conversation Course Now!
Success with Stories is an audio program that aims at helping individuals speak English fluently. The methods it provides are proven to actually work and this is therefore a successful way of not only speaking fluently but also speaking English with confidence. With this program, you are guaranteed excellent English speaking. Even in the professional field, well spoken English is a necessary skill for success.
It has been noted that speaking English fluently especially for young adults will not come about as a result of using textbooks and study of grammar rules. This makes the class boring and fact is, it will not prepare you for the real world of English as there is a major difference between writing English and speaking English. Forget about the endless drills about verb tenses, sentence structures and long lists of irrelevant vocabulary.  It would be good to know that you are spending your time and money on something that actually works. Your solution to this would be the Success With Stories program. Watch below video to find out more details.
Click here to view more details!
How the program works
This program helps individuals acquire the English language through listening to Stories. It is fun and entertaining which means that it will keep you alert through the entire session.
The brain loves to be triggered for it to stay alert. In this, the program has stories that range from silly, funny or those with a critical twist to it. This is bound to work as our brains thrive on emotion and change. As a result, the program captures your attention and you are able to understand what is being put across. In no time, you will be able achieve your goal of speaking English automatically.
The concept behind its functioning is as similar as learning your own mother tongue. No one explained the grammar behind it but you learnt it through listening to other people communicate and gradually, you started joining in the conversations automatically at a tender age.
Success with Stories volume 1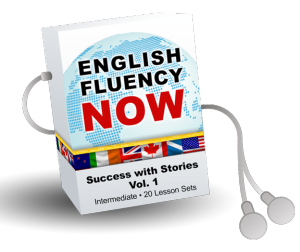 In this volume, you are required to listen to authentic American English. From the stories told, you will in turn acquire a number of relevant vocabulary words. These will include common idiomatic expressions, phrasal verbs collocations and colloquialisms. The story teller will speak fluently and in correct grammatical structure which you will gradually acquire.
You will learn to speak without putting a second thought to it. Speaking fluently will be easy, accurate and fast as there are no hesitations. Considering the international job market, you will be able to speak with confidence.
Doing tedious grammar drills will not be a part of this volume. The baby response where the teacher tries to speak word for word for you to repeat is in the past. The thought of having to learn words that you very well know you will not be using on a daily basis is out of question. Finally, this volume will not be keep you wondering if your time and money are well spent.
Depending on your starting level and the number of times you will repeat the lessons, it should take you about 5-6 months so as to complete volume 1 of Success With Stories. The audio files can easily be downloaded onto your computer as an mp3 file from which you can transfer them to a mobile device for easy access anywhere even when you are on the move. The written files can be downloaded only as pdf so as to ensure that no alterations are made to the content.
Download A Free Sample Lesson Now!
Download English Listening And Speaking Audio+PDF
Lesson set of volume 1: This volume has a total of 20 lesson sets each of which contains:
An original short story of 3-8 minutes. A vocabulary lesson where you get to know the meaning of various words, phrases, expressions and phrasal verbs after reading through the story. Each will take 20-40 minutes.
A question and answer session where from the same story, questions will be asked and possible answers provided. Also taking 20-40 minutes each.
Lastly, the story is retold from a different view using different verb tenses and grammatical structures to help practice English speaking from different perspectives.
As a bonus, you also get a full written transcript for the story though it is more advisable to listen to the listening English course first. You can also get special lessons on pronunciation, intonation and accent. My Facebook page allows the students and the teacher interact more in regards to speaking fluent English.
Success with Stories is your listening English course that has been made easier, interesting and more involving so that you can easily and quickly understanding and learning English language.
Click here to download Success With Stories Lessons!