This is the last rule of Learn Real English system. All of these rules are very important and if you follow them you will learn English much more faster. Especially this powerful program will help you to speak English fluently and improve your listening comprehension for real spoken English. Now please watch below video to figure out the last principle. As always you will find free audio lesson for this topic.
Learn Real English Rule 7
Click here to get Learn Real English Conversations Now!
The Method of Listening and Answering Stories to Speak English Fluently

Why are there so many students who are not so interested in learning English? The answer is because the way teachers teach in school is too boring. Basically, learning English is very easy and fun when teachers know how to teach correctly without giving boredom to the students. How does learning English with fun and more effective anyway? Here you can learn by using listening and answering stories method.
Why listen and answer story method is better than normal learning? Let us see some facts about students who learn English in school. Most of the students do not speak well because they have to think two languages at the same time. in this case, they speak English while translating it in their own language. They will think about so many grammar rules because they are taught based on grammar and vocabs. However, using listen and answer story method you will teach yourself to understand English better.
This way will make you learn to speak English without effort and without thinking. Thus, you will speak English fluently and instinctively coming out from your mouth. You will just know what the meaning when you hear people speaking English, so you are no need to translate it into your language anymore. listening and answering story can be the most powerful way to learn English quickly.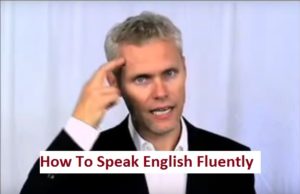 So, how does this method work? When you use this method, it does not mean that you will tell a story, but your teacher does. In this case, you job is just to listen the story and then answer the question about the story. The important technique is that you will hear a funny and crazy story which is easy to remember. You are not listening to a normal story because normal story makes you boring and too difficult to understand.
After listening to a story, you have to answer some questions asked by the teacher. In this case, you will be asked a lot of easy questions. At the first question, you will answer some easy question until the end you will get some difficult questions. Your brain will work optimally when you listen to some easy questions and you are ready to answer the questions instantly.
The question will really train you. You may answer fast and this is what we want from you, your brain will understand and use English faster. In this case, you will never translate the question and answer into your own language because you already understand the meaning. Therefore, you will speak loudly without feeling nervous instantly.
The teacher could ask you several questions like what was there? Then you can answer "there was nothing", Was there a boy? Then you may answer "yes, there was a boy", and many more questions. And the teacher keeps telling you a story until it gets more difficult and you just answer so many questions.
The aim of the question is to make you understand more about the grammar and the vocabularies in the story. When we repeat the story and the question and answer, then you will be able to answer more difficult questions. And you also enjoy the funny story because it is not like a boring story told in school. This method is very powerful and effective to make students get better in speaking English anyway. And you can not learn to speak English fluently by reading textbooks. Use this method and enjoy your improvement.

Now, you have completed 7 rules of Learn Real English to improve your listening and speaking skills very fast. It is not enough to know about these rules, but you have to follow and use them when you study English. If you follow learn real English rules you will learn English faster and your listening and speaking will improve easily and automatically.
Of course the best way to use all of the 7 rules, is to get and use Learn Real English conversations program. We higly recommend the Learn Real English course for intermediate and advanced learners to boost their English level. Click below link to get this great English conversation course and start to speak English fluently now.
Learn Real English Videos:
The best way to learn real English is to use real English materials. Not textbooks and CDs. Ther are boring and useless. We offer lots of free listening materials with reading text. you can use them to learn real English. Now please watch below video to find out more about the rule number 6. Also you can download your free mp3 listening lesson at the end of this post.
Learn Real English Rule 6:
Click here to get Learn Real English Conversations Now!
Using Real English Material for Excellent English Speaking
Do you want to speak English fluently? If you wish to speak English fluently, then you should know the right method to achieve it. You might just learn English through the book, but the book did not help much to your fluency in the English mastery. It seems you have to leave your books, and switch to real English. Real English uses real English material.
What is real English material? Real English material is an English material which is learned from the real things used in daily life. There are some real English materials to use.
Reading Materials
In this case you should read a lot of books you like and easy to understand. The books that we are talking about is not a formal lesson books that you frequently use in school, but the books which are used for pleasure such magazines, newspapers, comics, article, short story, novel and so on.
Listening Materials
In order to master English in all aspect, you have to listen English so much. Since English listening is one of the most important parts in English learning. You should not listen to CDs book anyway, don't listen to a dialogue of someone as if they are talking like a real conversation. What you need to do is just to find some listening materials that are easy to understand. In this case, you have to understand at least 90%-95% the conversation without a dictionary.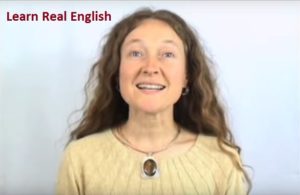 So, the point is that you should look for something fun in learning English. In this case, you can use several media such as television, radio, and internet. Here, you only need to read and listen to some easy materials and should be real materials. Something that is easy to be learned like Kid's TV program or children audio books. Why the audio book? Because audio book gives you real voice as well as the text.
Suppose kid's TV program is too easy for you, you can try a teenager TV program. If you already master those materials, then you can go to the most advanced materials such as listening to the news, podcast, TV Programs, movies, and etc.
We don't recommend you to read a textbook material or listening to a textbook CD. Why? Because those materials are not real, they are made by people. they are too formal. It is not natural because it is only used in the school. While outside the school, you have to face a real world with different English. However you need to learn real English and use it automatically.

In summary, now you already know how to learn English well. You don't need to read your school books a lot. In order to master English, you also have to learn from a real-world English, where it gives you a real English material. This is the easiest way to understand English, and it also gives you some fun. Therefore, from now on, just leave your textbook for school, find the real material around you such as watching a movie, watching the news, listen to the radio, and many more.
Of course we highly recommend you to use learn real English conversation course to understand and speak English automatically. There are lots of idioms, slangs and expressions in real life. So you can learn them with thiss great course.
Click here to get Learn Real English Course Now!

Click here to Download Audio+PDF
Learn Real English Videos:
This rule is the alternative way to learn English grammar, instead of studying rules and boring textbooks. Infact you can use correct grammar when you are speaking with this powerful metdot POV (Point Of View). Now please watch below video to find out more about learn real English Point of view stories. You can also download free mp3 listening lesson with PDF text at the end of this post.
Learn Real English POV Stories (Rule 5 video)
Click here to view more details!
Point of View Story to Speak English Fluently
Do you want to speak English fluently? Learning English for having a fluent English speaking cannot be done in one day. You have to learn it for months or even for years. In this case, you have to learn everything including grammar rules. However, grammar rule does not always work well to make you fluent. Sometimes, you have to forget about it if you really want to speak English spontaneously or without thinking. The question is how can I speak English if I don't learn grammar? Therefore, through this article, we will share with you about simple and powerful technique point of view story technique.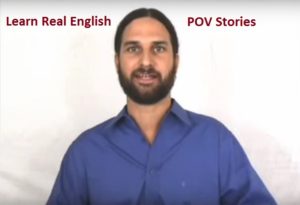 This is the rule that you are going to use to understand grammar instantly. How do we use the learn real English point of view story technique anyway? The first, you will be given a mini or short story, and then the second you will listen to the same story, but you will hear a different point of view. Here, you have to understand different time context. You may be confused what the meaning of time context is. Therefore, you should read some examples below.
Example: "There is a man and his name is John. And John goes to the store and John buys a shirt, and the shirt is blue. And John pays $20 for the shirt."
That is a short story sample in simple present tense. Your job is to understand deeply the context of the story, what is happening in the story and get the information. Now, you will read the same story but it has different time marker using past tense.
Example: "One year ago, there was a man and his name was John. Now John went to the store and John bought a shirt, and the shirt was blue. And John paid $20 for the shirt"
There you will see different time context, but this is only the short story. In this case, when you listen to the story you should not have to think about the grammar rules. All you need is just understand the situation of the story and the time happens in the story. This method is kind of easy, yet powerful. When you hear the same story with a different point of view so many times and it is stored in your brain, then you will be easy to speak English with the correct grammar.
Here, you can use several point of view stories in several tenses such as future tense, continuous tense, perfect tense, and many more. Another example in future tense is like:
" One year from now, in the future, there will be a man and his name is going to be John. Now John is going to go to the store and John is going to buy a shirt, and the shirt will be blue. And John is going to pay $20 for the shirt."
What you need to do is just listen to the story for a couple of times until it is finally stored in your brain. Then, if you practice speaking English, you will be inspired by the grammar rules inside the story. If you want to understand and speak English fluently without sduying grammar books, you should try learn real English conversation courses point of view stories.
Get Learn Real English Conversation Course Now!
Download Mp3 Listening with PDF text!

Download Free English Mp3 Lesson Here!
Learn Real English Video Lessons: