We are sure that if you are a person who has been looking for ways on how to improve English speaking then you are truly at the right place. There are a few tips of the ways on how to improve English while the first part is already given to improve their English language speaking skills. Those who have read the first part they would be surely interested in the second part of the same.
Hence, this is the second part of the ways on how to improve English and it can also help you more in many different ways too. These ways are given as follows
Know Your Time
Everyone has a time to learn during the day. Know when you are most energetic and most excited to learn in that time and have great results.
Take Help from Sentences
Don't juts learn words, make use of sentences. They help you to remember their meaning and understand it. This way you can remember the word longer and use it at many places too.
Use Test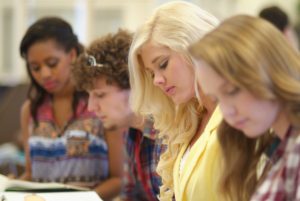 Keep testing what you have learned. This way you will be confident that you are actually learning and are not forgetting older things when you learn some new things. Making tests and doing them to check how you are doing is the best way to learn even for speaking because they help you to know what you should know more and what you have learned for it too.
Focus On Goals
Never learn thinking that you should learn to speak English. It will make it dull. So always remember that when you will learn speaking English what you will be able to do with it that you can't do now. Make long and short term goals that you can get after learning to speak English. These will help you to learn with a lot of interest and dedication.
Know Your Way
There are lots of ways in which people learn different things. Everybody knows how they learn more than others. This is why it is important that you use those methods that help you learn better. You can also follow some group methods if you don't know what your method actually is
Review
There are lots of things that you keep learning but you can also forget them very quickly too. This is why it is important that what you have learned in past you review it all every two days too. It will make you remember all your lessons in the best way.
Have Small Time
When you are studying by yourself, you should not study for a very long time. This is because it will make it boring and you will lose interest to learn it. So take short time which is less than 30 minutes to learn. Take small 5 to 10 minute breaks and then start learning again. Maintain your interest in learning it at all times.
The above mentioned ways are truly some of the ways that help on how to improve English in a very easy way. You can follow them and be very efficient at English.
The Best Courses To Improve English Skills
We have been sharing useful contents for helping you to learn English. Especially video tutorials and downloadable mp3 lessons, at Gr8English website. So we have a few recommendations about how to improve English speaking using very powerful listening lessons packs. Theese packs contains listening content because the key is listening here.
Learn Real English Conversations
The program number 1 is the Learn Real English conversation course. By using this course, you can quickly learn to speak conversational English for job interviews and to make friends internationally. You can start being to able to understand English language movies, news and television. You can not speak English fluently by reading boring textbooks. But you should listen real English conversations repeatedly. And you can practice with listen & answer mini stories.
Click here to download LRE course now!
Click here to view more details!
Effortless English Course
The second program is the Power English course that prepared by Effortless English method. Power English course contains over 32 lesson set. In each set, there is a main article lesson, a mini-story lesson, a pointof view lesson. Also there are 6 commentary mp3 lessons as bonus. As I said before,from the main article you will learn many interesting things, for example, how to be confident, strongand never give up achieving your goals. The mini-story and point of view lessons will teach you English grammar in the effortless way.
Click here to view more details!
Success With Stories By Lisa Biscup
The third program is the Succecc With Stories course by Lisa Biscup. Success with Stories course is a great way to learn English through listening, repetition and practice. By hearing the actual English words spoken and repeating them to yourself you can begin to speak English fluently through a better understanding of the language. You can practice speaking English while listening to the simple, yet enjoyable stories, reviews and vocabulary. This English lesson package is perfect for those who are able to understand some English, and speak it but who need a little help to become fluent in the language.
Download Success With Stories Course Now!
English Harmony System
Finally the last program is the English Harmony System. "English Harmony System 2.0" is made to assist Anybody who could read as well as write in English begin eventually SPEAKING the actual language! So that you will find no shocks, let me inform you Precisely what you will get within each individual module from the interactive video & sound system English Harmony System 2.0.
Click here to download English Harmony System now!
The most fun way of learing English is to watch subtitles movies. You will improve English listening and speaking skills by watching these comedy series. You will also read the subtitles while you are watching so that you can understand everything.
Watch English Subtitles Series
We will publish the other parts of this entertaining English comedy series at our website soon. So please visit our gr8English page to follow and watch English subtitles comedy series. Reading and listening at the same time is very powerful method to improve your English skills. You can learn pronunciation as well.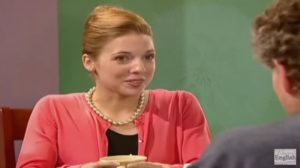 This funny film is a comedy English film for you to learn English.  You will listen funny conversation with Subtitles 01 this video talks about some funny friends they work together in an entertainment company. And they always create a situation funny comedy while working. With this video will help you improve your ability to listen, speak, read, write and pronounce English some vocabulary. Just study and practise your English everyday to speak it fluently.
Learn Real English rules:
There are a number of ways to learn any language, including Spanish. A few are the traditional ways while there are many more that can be more effective. But the basics of learning a language will always remain. This would mean learning Spanish vocabulary. So more words you learn, the better it will be. In order to do so, people make use of different ways.
Making Vocabulary Lists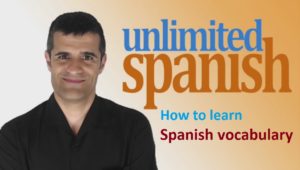 This has been the most common way always. In this a person makes a long list of words in Spanish in one column. The next column has the meaning of these words in the language known to that person. Somehow this technique is not effective enough. The main reason behind this is that the brain recognizes context only. Hence random words that are not related to each other do not make much impact on the brain as the context is missing.
Learn Spanish Phrases
Hence a better option would be to learn Spanish phrases. This refers to a collection of words in a phrase. Here there would be a context as a phrase tends to conjure up the image of a situation. Hence this is a much better way of learning. In addition, you also get to learn about the placing of words in a sentence. This would apply to placing of verbs too. But there are more effective ways of learning Spanish.
Learning Spanish Stories
This is something that is much more effective than the other two options. The main reason here is that the context is still more. Hence the brain is able to grasp things much better.
This will be a simple story. It will have small and easy sentences. The next column will have the meaning of those sentences in the language understood by the user. Hence the person can refer to these in order to understand the story better. Here the vocabulary is much more. Hence the learning is better. Besides, the proper placement of words is also there as well as the placing of verbs in appropriate places.
Learning Spanish vocabulary is very important. This helps to learn a language better as the brain does not have to translate all the time in order to let you speak the language fluently. This kind of learning and all the techniques mentioned here are about accumulating Spanish vocabulary. The more you accumulate, the better you learn and more fluently you write and speak. In addition, learning through phrases and story is still better. This is because the vocabulary enhances still further and the placement of words also becomes clearer. In addition, your grammar is also becoming better this way.
Click here to view more details!
With a story, you are able to imagine a situation. Hence you are able to have a context and the words become related and easy to remember. This is a much faster technique as you learn many words at the same times. Hence if you are looking at learning Spanish efficiently, then this is the best way as it is easy and a lot of fun too!
Unlimited Spanish Courses
Unlimited Spanish course is the best program which you can learn vocabulary faster. There are listen and answer mini stories to help you improve your listening and speaking skills as well.
There are several such people out there who want to learn Spanish quickly thus they spend quite a few bucks to make sure that they learn the language but still they are not able to perform well. This is not because you have a fault but actually the issue is that the course is not designed in an effective way. Oscar designs the course in a unique way. He ensures that his courses fulfil the need and desire of all kinds of people thus he decided to divide the Unlimited Spanish courses into three types of courses which are stated as follows. As a result we highly recomment Unlimited Spanish courses for you.

Click here to download mp3 Spanish courses!