The most fun way of learing English is to watch subtitles movies. You will improve English listening and speaking skills by watching these comedy series. You will also read the subtitles while you are watching so that you can understand everything.
Watch English Subtitles Series
We will publish the other parts of this entertaining English comedy series at our website soon. So please visit our gr8English page to follow and watch English subtitles comedy series. Reading and listening at the same time is very powerful method to improve your English skills. You can learn pronunciation as well.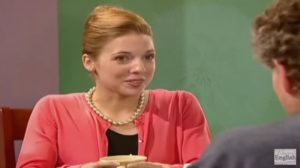 This funny film is a comedy English film for you to learn English.  You will listen funny conversation with Subtitles 01 this video talks about some funny friends they work together in an entertainment company. And they always create a situation funny comedy while working. With this video will help you improve your ability to listen, speak, read, write and pronounce English some vocabulary. Just study and practise your English everyday to speak it fluently.
Learn Real English rules:
There are a number of ways to learn any language, including Spanish. A few are the traditional ways while there are many more that can be more effective. But the basics of learning a language will always remain. This would mean learning Spanish vocabulary. So more words you learn, the better it will be. In order to do so, people make use of different ways.
Making Vocabulary Lists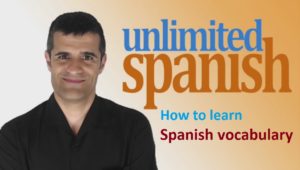 This has been the most common way always. In this a person makes a long list of words in Spanish in one column. The next column has the meaning of these words in the language known to that person. Somehow this technique is not effective enough. The main reason behind this is that the brain recognizes context only. Hence random words that are not related to each other do not make much impact on the brain as the context is missing.
Learn Spanish Phrases
Hence a better option would be to learn Spanish phrases. This refers to a collection of words in a phrase. Here there would be a context as a phrase tends to conjure up the image of a situation. Hence this is a much better way of learning. In addition, you also get to learn about the placing of words in a sentence. This would apply to placing of verbs too. But there are more effective ways of learning Spanish.
Learning Spanish Stories
This is something that is much more effective than the other two options. The main reason here is that the context is still more. Hence the brain is able to grasp things much better.
This will be a simple story. It will have small and easy sentences. The next column will have the meaning of those sentences in the language understood by the user. Hence the person can refer to these in order to understand the story better. Here the vocabulary is much more. Hence the learning is better. Besides, the proper placement of words is also there as well as the placing of verbs in appropriate places.
Learning Spanish vocabulary is very important. This helps to learn a language better as the brain does not have to translate all the time in order to let you speak the language fluently. This kind of learning and all the techniques mentioned here are about accumulating Spanish vocabulary. The more you accumulate, the better you learn and more fluently you write and speak. In addition, learning through phrases and story is still better. This is because the vocabulary enhances still further and the placement of words also becomes clearer. In addition, your grammar is also becoming better this way.
Click here to view more details!
With a story, you are able to imagine a situation. Hence you are able to have a context and the words become related and easy to remember. This is a much faster technique as you learn many words at the same times. Hence if you are looking at learning Spanish efficiently, then this is the best way as it is easy and a lot of fun too!
Unlimited Spanish Courses
Unlimited Spanish course is the best program which you can learn vocabulary faster. There are listen and answer mini stories to help you improve your listening and speaking skills as well.
There are several such people out there who want to learn Spanish quickly thus they spend quite a few bucks to make sure that they learn the language but still they are not able to perform well. This is not because you have a fault but actually the issue is that the course is not designed in an effective way. Oscar designs the course in a unique way. He ensures that his courses fulfil the need and desire of all kinds of people thus he decided to divide the Unlimited Spanish courses into three types of courses which are stated as follows. As a result we highly recomment Unlimited Spanish courses for you.

Click here to download mp3 Spanish courses!
This is the last rule of Learn Real English system. All of these rules are very important and if you follow them you will learn English much more faster. Especially this powerful program will help you to speak English fluently and improve your listening comprehension for real spoken English. Now please watch below video to figure out the last principle. As always you will find free audio lesson for this topic.
Learn Real English Rule 7
Click here to get Learn Real English Conversations Now!
The Method of Listening and Answering Stories to Speak English Fluently

Why are there so many students who are not so interested in learning English? The answer is because the way teachers teach in school is too boring. Basically, learning English is very easy and fun when teachers know how to teach correctly without giving boredom to the students. How does learning English with fun and more effective anyway? Here you can learn by using listening and answering stories method.
Why listen and answer story method is better than normal learning? Let us see some facts about students who learn English in school. Most of the students do not speak well because they have to think two languages at the same time. in this case, they speak English while translating it in their own language. They will think about so many grammar rules because they are taught based on grammar and vocabs. However, using listen and answer story method you will teach yourself to understand English better.
This way will make you learn to speak English without effort and without thinking. Thus, you will speak English fluently and instinctively coming out from your mouth. You will just know what the meaning when you hear people speaking English, so you are no need to translate it into your language anymore. listening and answering story can be the most powerful way to learn English quickly.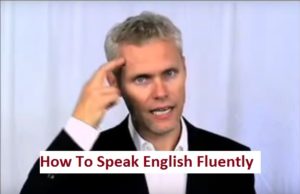 So, how does this method work? When you use this method, it does not mean that you will tell a story, but your teacher does. In this case, you job is just to listen the story and then answer the question about the story. The important technique is that you will hear a funny and crazy story which is easy to remember. You are not listening to a normal story because normal story makes you boring and too difficult to understand.
After listening to a story, you have to answer some questions asked by the teacher. In this case, you will be asked a lot of easy questions. At the first question, you will answer some easy question until the end you will get some difficult questions. Your brain will work optimally when you listen to some easy questions and you are ready to answer the questions instantly.
The question will really train you. You may answer fast and this is what we want from you, your brain will understand and use English faster. In this case, you will never translate the question and answer into your own language because you already understand the meaning. Therefore, you will speak loudly without feeling nervous instantly.
The teacher could ask you several questions like what was there? Then you can answer "there was nothing", Was there a boy? Then you may answer "yes, there was a boy", and many more questions. And the teacher keeps telling you a story until it gets more difficult and you just answer so many questions.
The aim of the question is to make you understand more about the grammar and the vocabularies in the story. When we repeat the story and the question and answer, then you will be able to answer more difficult questions. And you also enjoy the funny story because it is not like a boring story told in school. This method is very powerful and effective to make students get better in speaking English anyway. And you can not learn to speak English fluently by reading textbooks. Use this method and enjoy your improvement.

Now, you have completed 7 rules of Learn Real English to improve your listening and speaking skills very fast. It is not enough to know about these rules, but you have to follow and use them when you study English. If you follow learn real English rules you will learn English faster and your listening and speaking will improve easily and automatically.
Of course the best way to use all of the 7 rules, is to get and use Learn Real English conversations program. We higly recommend the Learn Real English course for intermediate and advanced learners to boost their English level. Click below link to get this great English conversation course and start to speak English fluently now.
Learn Real English Videos: